Museum locations
The Terra Sancta Museum is being built in two Franciscan buildings of the Custody of the Holy Land, the Monastery of the Flagellation and the St. Saviour Monastery. These monasteries, which have very old parts dating back to roman, byzantine and crusader periods, are located at short distance to one another and are also very near to the main pilgrimage and tourist destinations in Jerusalem (Esplanade of the Mosques, the Western Wall, the Via Dolorosa and the Holy Sepulchre).
The museum will cover a surface area of 2,573 square meters. It will be comprised of three main exhibitions:
Multimedia – Jerusalem and the Via Dolorosa (the Way of the Cross): from Herod to present day
Archaeology –  The evangelical sites of the Holy Land
History – The Franciscan Custody of the Holy Land
The museum buildings, with their centuries-old history, are a fundamental part of the Terra Sancta Museum.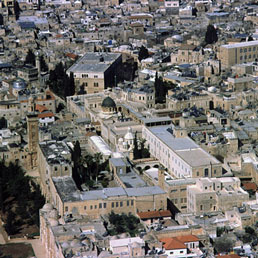 MONASTERY OF THE FLAGELLATION
Located at the start of the Via Dolorosa leading to the Holy Sepulchre, this monastery will host the multimedia and the archaeological exhibitions. It is the site of the Archaeological Museum of the Studium Biblicum Franciscanum, in operation since 1902 (making it the oldest museum in Israel), which is currently under reconstruction and will be significantly enlarged to give birth to the new archaeological exhibition.
The Monastery of the Flagellation is located in the  area of the Antonia Fortress, a roman building constructed next to the Western Wall of the Second Temple. According to the tradition, Jesus was condemned here. Remains of walls, pavements and cisterns can still be visited and  will be included in the museum's archaeological exhibition.
ST. SAVIOUR MONASTERY
The headquarter of the Franciscans of the Holy Land since the 16th century, this monastery will host the history exhibition. Here pilgrims were accommodated and the fathers carried out all activities required for operating the monastery and for supporting the local community, such as the pharmacy, craftsman workshops, etc.
The St. Saviour Monastery is located next to the New Gate, one of the main entry points to the Old City for many pilgrims going to the Holy Sepulchre.