19 April 2014
Huge turnout at the sixth Holy Land Volunteers' Day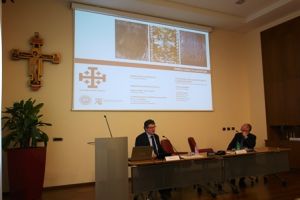 This year's Holy Land Volunteers' Day has closed in Rome in the presence of the Custodians of the Holy Land, including Fr. Pierbattista Pizzaballa.
Among the attendees was Gabriele Allevi, museologist and project leader, who spoke of the Custody of the Holy Land and ATS' great project, the Terra Sancta Museum.
Allevi briefly discussed the most important works that will be exhibited. Important stories and anecdotes are hidden behind every artefact, and together, they reconstruct the main chapters in Christianity's biggest story. First, there are the tombs from the first century after Christ, discovered at Dominus Flevit (the place where Jesus wept for Jerusalem), which bear witness to the vivacity of the first Christian communities in the Holy City, despite their persecution during that time. We re-discover the figure of King Solomon as the exorcist, portrayed in ancient Christian amulets, in clear continuity with Jewish tradition. Or worship at the house of Peter at Capernaum, which dates back to the early years after the death of Christ. And then, there is the entire archaeological section, where every artefact tells of the rich history of the presence of the Franciscans in the Holy Land.
"Work will begin soon," Allevi concluded,  "as soon as we have the necessary funds to support this great project and cement its legacy in history."
To receive more information on the Holy Land Museum, click here.