Locations and Collections
[tabs]
1. Archaeological museum
The evangelical sites in Palestine – The Holy Land
The museum will be housed in a place of great importance in terms of both history and tradition. Some of the pavements, walls and cisterns are in fact remains from ancient Jerusalem. The tour, encompassing various rooms, will reflect the principal chronological stages in Jesus' life. The exhibition of the discoveries, among the most important from the archaeological excavations carried out by the Franciscans of the Studium Biblicum over the past 150 years, will allow the visitor to make a virtual archaeological pilgrimage to the Holy Places, learning about them through the objects, the background information and historical time references.

2. Multimedia museum
[one_half]
Jerusalem and the Holy Sepulcher
The multimedia room will constitute a useful tool for experiencing, with greater understanding, the places along the Way of the Cross, notably the Holy Sepulchre, which today many find difficult to comprehend.
The video aids, projected continuously, can easily be added to the programs of organized pilgrimages and enjoyed, each year, by hundreds of thousands of visitors.
[/one_half][one_half_last]

[/one_half_last]
3. History museum
[one_half]
The Franciscan Custody in the Holy Land
In this section the historical tour dedicated to the Custody of the Holy Land will be laid out, recounting in an informative manner the Franciscan presence in the Holy Land beginning with St. Francis' journey at the beginning of the 13th century.
The exhibition of the historical, documentary and artistic heritage will make the museum a valuable tool for understanding the meaning of pilgrimage to the Holy Land and the role the Franciscans have played in its history, in the name of the Universal Church.
The artistic heritage of the Custody consists of sculptures, paintings, goldsmith's work, rare pharmacy jars, illuminated manuscripts, liturgical vestments and valuable archival documents. [/one_half][one_half_last]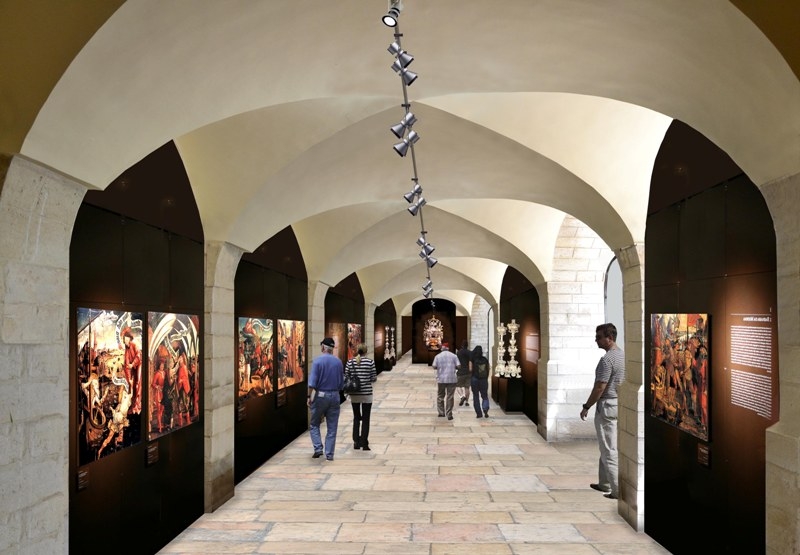 [/one_half_last]