25 August 2023
The Journey to Discover the Roots of Agostino Al'Ama
Bethlehem families from the Al'Ama clan gathered in Amman to learn about their family roots. Their main goal was to conduct extensive research on the late organist of the Basilica of the Holy Sepulcher in Jerusalem, Agostino Al'Ama, who spent more than 70 years there. His sons Patrick and Joseph met George Al Ama, who regularly engages in this type of research. George is the founder of a Bethlehem cultural and genealogy center (Dar Al Sabagh), which aims, among other things, to help Palestinians living in the diaspora to reconnect with their roots and learn about their family history.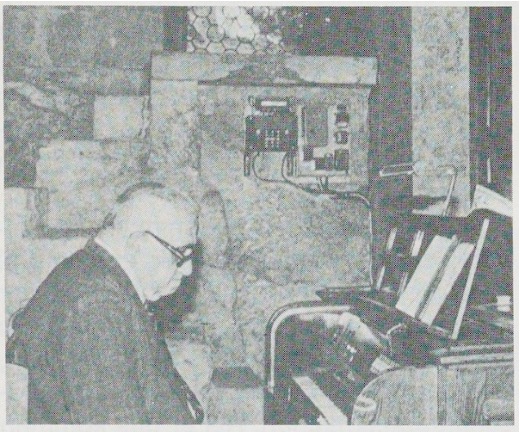 Between the 1870s and 1940s, many Palestinians left their homeland due to economic and political circumstances and settled in different countries. The waves of Palestinians who emigrated were mostly from Bethlehem, Beit Jala, and Beit Sahour, among other cities. They never intended to settle permanently outside Palestine but had wanted to expand their work in handicrafts in the international markets. Later on, in the war of 1948, many Palestinians were forcibly expelled from their homes, with hundreds of Palestinian towns and villages destroyed during the catastrophe (Al-Nakba). Another mass wave of emigration occurred in 1967, when Israel's military occupied the land, built and expanded settlements, and confiscated Palestinian property, all of which were major political maneuvers used against the Palestinians. The story of Agostino Al'Ama and his family was unlike any other story that the center had encountered since 2018, the year it was established and began conducting family-tree research. One reason for this is that Agostino was an important composer, organist, and director of "Schola Cantorum of the Holy Land." He brought about a huge shift in Palestinian contemporary music. Another reason is that many attempts had been made to find his roots, and numerous theories had been constructed, none of which, however, were true. There is no doubt that the current research, which relies on primary sources and scientific investigation, has clearly identified Agostino's roots and consequently puts an end to all the erroneous theories.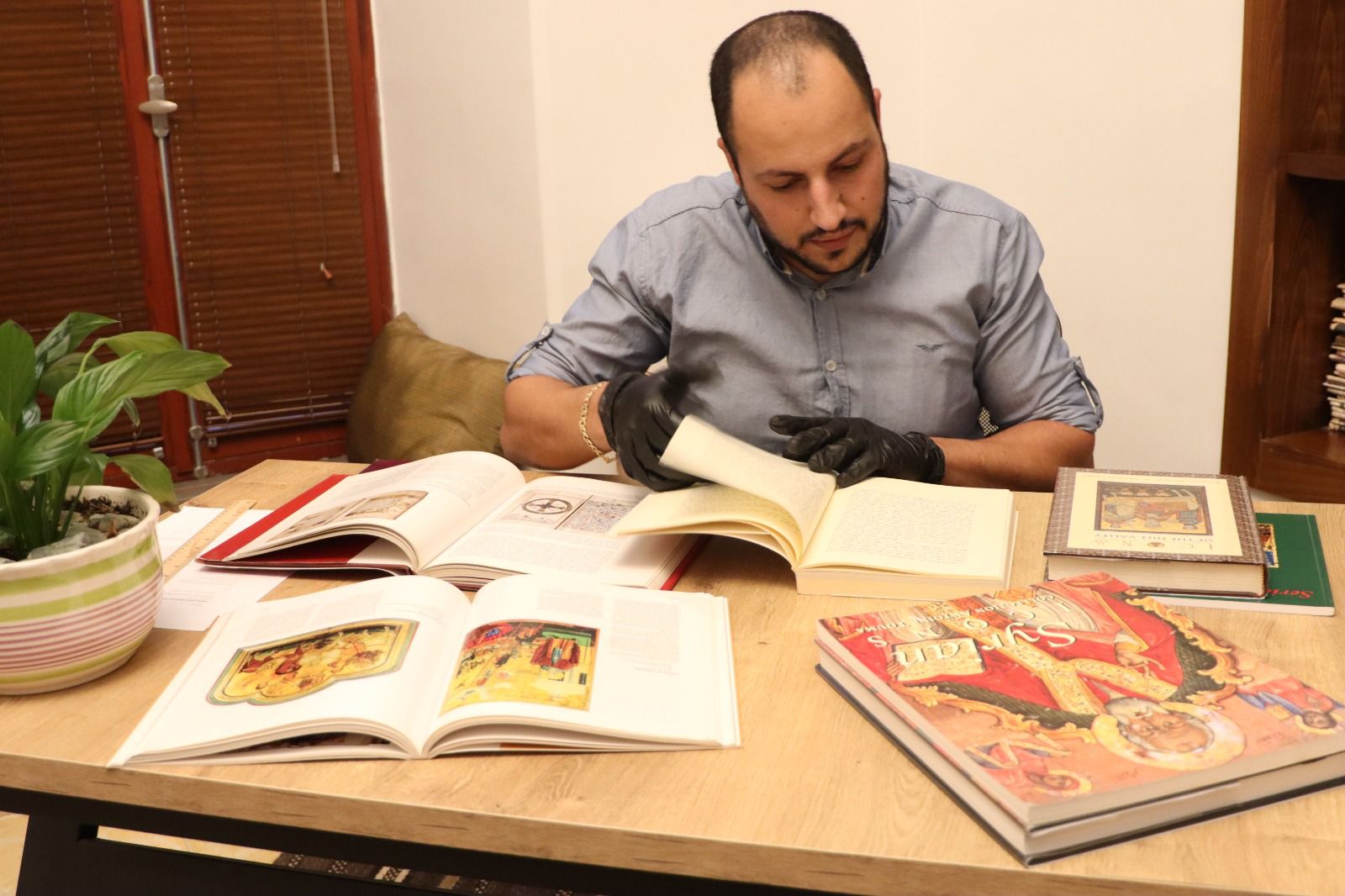 George Al-Ama accepted the mission to explore the mystery surrounding Agostino. The team of Dar Al-Sabagh began by collecting information through interviews and searching old records and documents. Several interviews were conducted by phone with a number of people; for example, with Patrick and Joseph Al'Ama, who shared that Agostino's father's name was Bishara and his mother's name was possibly Maryam. "This is all we know," they said. Patrick added that there was a book published a long time ago about the history of Bethlehem, and in this book, there is an interesting story about their grandfather Bishara. It seems that he used to work as a smith of silver or gold and had been sentenced to death by the Ottoman Empire government for counterfeiting. Another interview was held with a genealogist, Robert Jaar Al'Ama, who only offered theories but no concrete information about Agostino's origins, despite his extensive years-long research about one of Agostino's ancestors. This genealogist did, however, relate a story that was passed down orally. There was a woman, maybe called Berta, who insisted on adopting Agostino in his early years. The woman's husband, Hanna Miladeh, did not agree to the adoption, so Agostino was sent to an orphanage in Jerusalem, keeping his surname. "Who was Berta? And why did she insist on adopting Agostino?" the researchers wondered.
The archives of the Custody of the Holy Land speak of a marriage between Hanna Miladeh and another member of the Al'Ama family. The link is probable, and perhaps Berta was a nickname. Eyad Handal, a researcher at Dar Al Sabagh, collected information from various sources: the Al-Ama family trees from the database of the center, the archive of Saint Catherine's Church in Bethlehem, and the Ottoman census of 1905. Eyad found five people named Bishara Al'Ama in the records mentioned, but his wife's name, Maryam, could not be found. The plot thickens.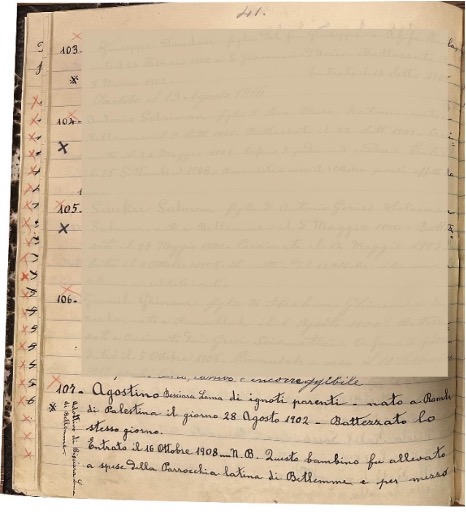 Baptismal Registry from St. Nicodemus Parish in Ramleh (1873–1931), part 1.
Let us return to the story of Agostino's son, Patrick, with his own piece of the puzzle. Eyad had managed to get his hands on a book that recounts the story of Bishara, and more specifically, that of another interesting Bethlehemite personality, Wardeh Musallam (Al-Biss), a hero who saved Bishara from the death penalty in Damascus, Syria. In this chronicle of Bethlehem written by Hanna Abdallah Giacaman, a historian from Christ's birthplace, we learn of the adventures of Wardeh, a woman who was described in Kunashet Zablah's personal diaries as often spending time sitting with the city council. She was very involved in the life of the city and regularly dealt with problems and disputes relating to land, family relationships, etc. Wardeh was a wise woman, intelligent, strong, and beautiful; no one could refuse her anything she asked (Giacaman, 1984). In 1896, when Bishara was sent to Damascus, the town council of Bethlehem held several meetings at the request of his family who wanted their son, the sole male breadwinner of the family, to return. The city council, which contained notable elders from Bethlehem, gathered to see what they could do. Wardeh proposed with confidence that she could rescue Bishara and bring him back to Bethlehem, on condition that they provide her with the money to cover the expenses of her journey. Thus, Bishara's mother and two sisters sold all their jewelry and headdresses and gave Wardeh all the money that they had accumulated for this purpose. Wardeh's clever plan was to travel to Syria to find the people who were in charge and who had the power to commute Bishara's death sentence. She believed that he was innocent and that the only way to influence their decision was to set up meetings with the mothers and wives of the people in power. This was how she could change the minds of the power-holders, and that's exactly what happened. Wardeh won Bishara's freedom (Giacaman, 1984). Another source interjects this colorful story: In 1896, Salesian priest Fr. Antonio Belluni received a message congratulating Bishara on his return to Bethlehem, stating that he had no brothers. In fact, the document not only confirms the veracity of Wardeh's story but also makes it possible to specify the date of 1896 to better identify which Bishara we are talking about (Nahas, 1909).
According to the archives of the Custody of the Holy Land and the research of Lucie Mottet, Terra Sancta Museum, Agostino was born on August 28, 1902. His unknown parents were from Palestine. He entered the orphanage in Jerusalem on October 16, 1908.[1] Another important biography was written by Fr. Agostino Szymannski, ofm, after the death of Agostino. He notes that Agostino was born on August 28, 1903, the son of Bishara and Maria, native Bethlehemites. We know from the records of Ramleh that Agostino was born on August 28, 1902, but the most important information is that it mentioned the name of Agostino's mother, Maria, and the dates of Bishara's and Maria's deaths.[2]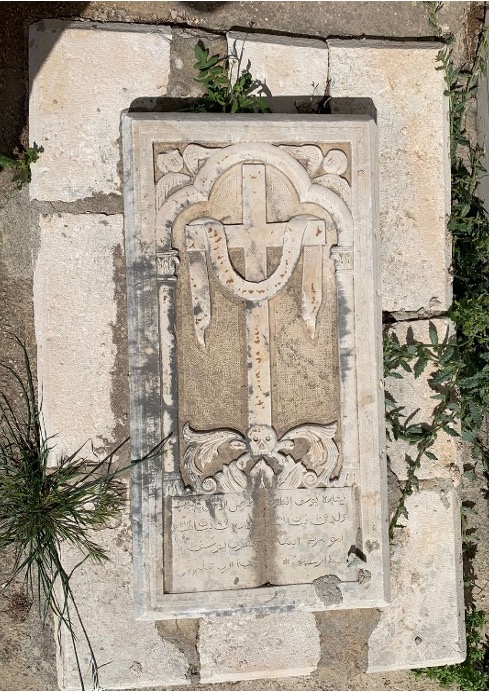 Photo taken by the authors, Tomb of Bishara Al'Ama with his mother Maryam Batarseh. 2023
Meanwhile, Eyad was able to narrow down the number of people who carried the name Bishara, and only one of them was married to Maria: Bishara Yousef Al'Ama. In fact, he had no brothers and fits with the timeline and the date of death, in comparison to other archival records from the center. He had two daughters, Wadi'a and Katrina. At the time Agostino entered the orphanage, they were married. Wadi'a, who was mentioned by Robert Jaar Lama with the nickname of Berta, was married to Hanna Miladeh. This information identifies her and explains the reason that she was looking to adopt Agostino. A question remained, though: If he had entered the orphanage in 1908, he would have been six years old. Why did Agostino go to the orphanage at that age? Especially given that his parents were still alive. The only possible answer is that Bishara, after he had regained his life and returned to the city, fell sick and passed away. According to the gravestone text that was identified on the tomb of Bishara in the Catholic cemetery in Bethlehem, he died in 1912 at the age of 48. All the money he had saved over the years was spent to cover Wardeh's journey to Syria to save him. Also, his goal was to provide his only son with a smoother path to success in life, to have a better future, and to be well-educated. The Franciscans were able to offer him that. They had very good schools that taught languages, music, crafts, etc. Bishara was from a faithful Catholic family. That he had a good relationship with the Franciscan priests is evident in the recommendation letter that the associate priest of Saint Catherine's Church had sent to the orphanage in Jerusalem on behalf of Agostino. Agostino was named after Saint Augustine, whose feast day is celebrated in August. A last question: "Why was Agostino born in Ramleh, not Bethlehem?" Fr. Abed Al-Maseeh, the parish priest of Ramleh, who had known Agostino, was contacted. His theory was that Bishara had had a good relationship with the Franciscans and used to do work in the churches. He may have gone with his wife to Ramleh to work in the church, and while they were there, his wife gave birth. The team of researchers is not sure of the accuracy of this theory or why Agostino was born in Ramleh rather than in Bethlehem. But what they are sure of is that Agostino is the son of Bishara Yousef Anton Al'Ama and Maria Jeries Al'Ama.
In conclusion, it was not possible in this short article to fully account for Agostino's life and achievements but only to identify his family roots and share the story of Wardeh Musallam, who rescued Bishara from certain death. This important discovery has significance not only for the Al'Ama family, who have finally come to know their relative, but also for the Palestinian community and all people who are interested in this fascinating story.
References:
Hanna Abdallah Giacaman, A Tour in the History of the Holy Land, Vol 1: The New Entrance to Bethlehem, Jerusalem: Modern Arab Press, 1994.
Dar Al Sabagh database and archives, "Al'Ama Family Tree," Bethlehem. Accessed in March 2023.
Fr. Y. Nahas, Biography of Fr. Anton Billoni, Canon of the Holy Sepulcher and Founder of the Salesian Orphanage in Palestine, Part 2, p. 92, Alexandria Oriental Press, 1909.
Saint Catherine Church records, "Al'Ama Family Tree," Bethlehem. Accessed in March 2023. The Custody of The Holy Land Archives.
St. Nicodemus Latin Parish records, Ramleh San Nicodem Baptism (1873–1931), part 1, N. 107, Jerusalem. Accessed in March 2023. The Custody of the Holy Land Archives, Jerusalem.
A. Szymannski, ofm, Biography of Agostino Al Ama. Accessed in March 2023. The Custody of the Holy Land Archives, Jerusalem, circa 1988.
The Monastery of Saint Saviour, "The Jerusalem Orphanage Record," number 107, Jerusalem. Accessed in March 2023. The Custody of the Holy Land Archives.
---
[1] Agostino Bisciara Lama of unknown relatives – born in Ramle of Palestine on 28 August 1902 – Baptised the same day. Entered 16 October 1908.
[2] Agustino Lama was born in Ramleh on 28.08.1903. His father, Bishara (=Annuncio), was a merchant; his mother, named Maria, was a native of Bethlehem. His father died in 1911 and his mother in 1954. Both were buried in Bethlehem in the Latin Parish cemetery.