12 December 2019
A relic of the Holy Cradle returns to the Holy Land and its connection to the Holy Land Museum
Christmas is fast approaching and with it the many celebrations which commemorate, with joy and solemnity, the birth of Jesus. On 30 November, the Custody of the Holy Land celebrated the return of a relic from the Holy Cradle of the Child Jesus to Bethlehem. This relic, initially preserved in the Basilica of Santa Maria Maggiore in Rome, is part of one of the fragments of wood that tradition indicates as belonging to the cradle of Jesus.
Immediately the relic and its reliquary were inserted into the database of the Terra Sancta Museum. The purpose of the cataloging is, in fact, to understand and preserve sacred objects and works of art for future generations.
From the 13th century onwards, sources testify to a great devotion for the relic of the Holy Cradle. Its existence is attested by Saint Luke in Chapter II of his Gospel: "She brought forth a son, whom she wrapped in his swaddling-clothes, and laid in a manger, because there was no room for them in the inn." (Lk 2:7). The arrival of the relic in Rome probably dates back to the time of Pope Theodore I (642-649), son of a bishop of Jerusalem, who received it as a gift from Patriarch  St. Sophronius to protect it from the Muslim invasion. The Basilica of Santa Maria Maggiore in Rome was built in 432 by Pope Sixtus III as a temple dedicated to the Virgin after the Council of Ephesus in 431, when the dogma of the divine motherhood of Mary was proclaimed. The Pope had a "grotto of the Nativity" built there, similar to that of Bethlehem, where the relic was placed and, thanks to which, the basilica took the name of Santa Maria Ad Praesepem.
The sacred wood was placed in a cradle-shaped reliquary made of crystal and surmounted by the Child Jesus lying on a golden straw floor, made by the Italian architect Giuseppe Valadier in 1797 as a gift of the duchess Maria Emanuela Pignatelli, duchess of Villahermosa.
For the return of a piece of the cradle to Bethlehem, Pope Francis wanted to offer a new reliquary in the form of a monstrance dedicated to the Holy Land, dating from the seventeenth or eighteenth century. This is not the first reliquary in the collections of the Terra Sancta Museum: the Custody of the Holy Land, in fact, has a large number of them. The convent of St Saviour alone preserves more than 1300, the object of recent and intense cataloging by the Cultural Heritage Office. The relics they contain belong to saints but also to sanctuaries throughout the Catholic world.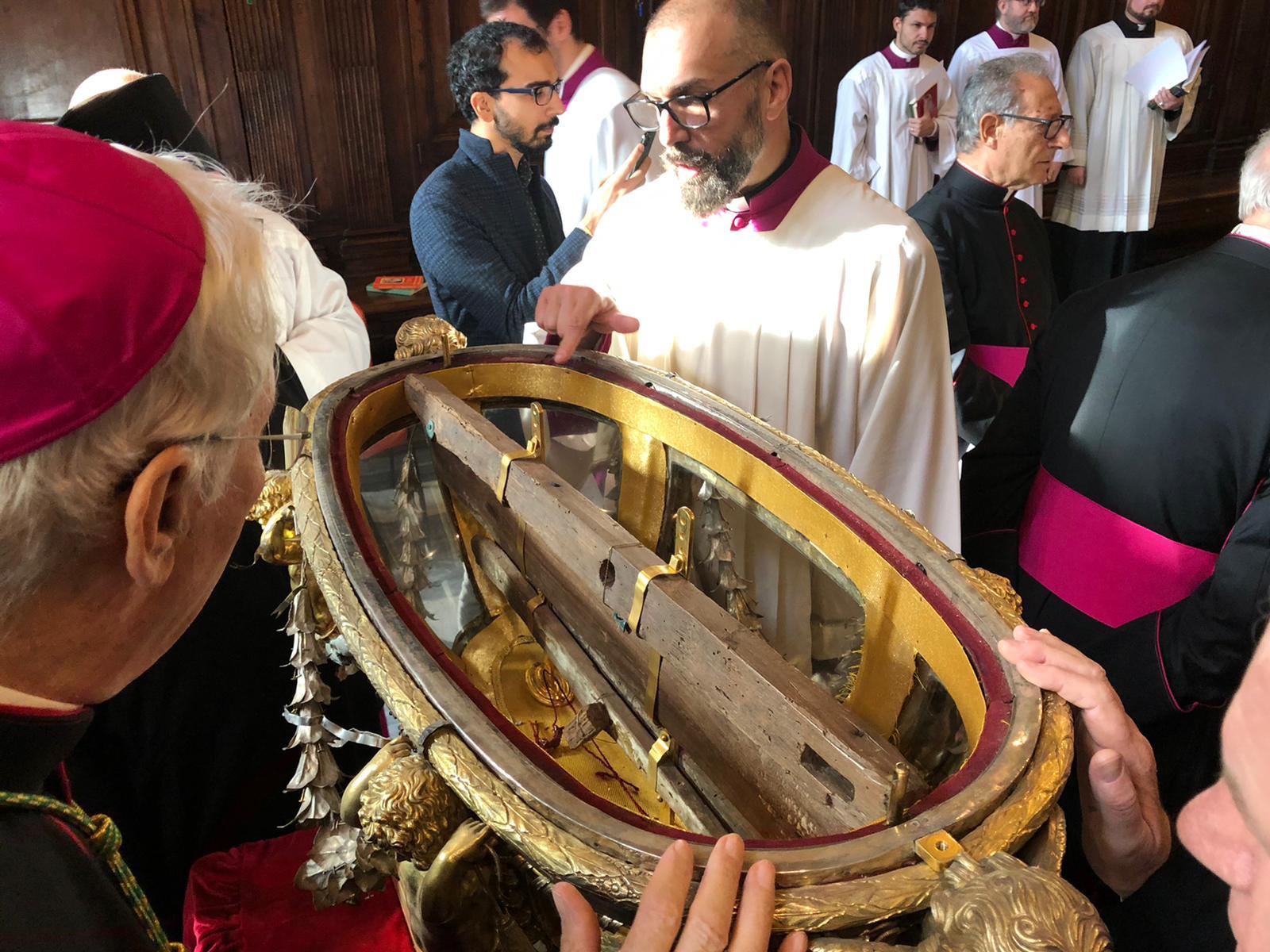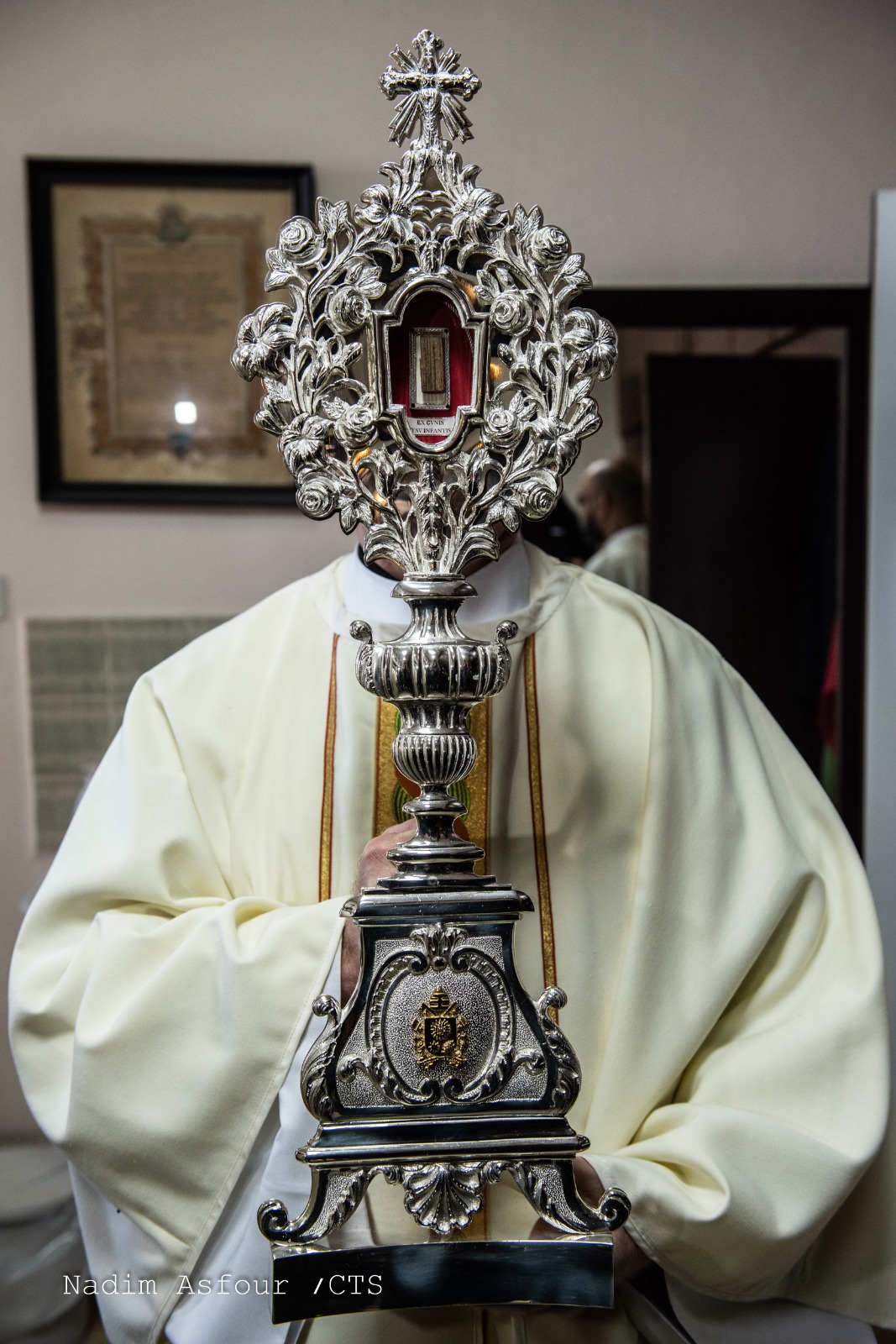 The relic of the Holy Cradle offered by Pope Francis now joins this exceptional collection of relics, objects of devotion that help us to remember the human dimension of our faith, whose origin lies in the mystery of a God made flesh, on Christmas night, in Bethlehem.