20 May 2022
Between Threads and Silks: Restoration Work of the Museum
The textile collections of a museum are among its most delicate and challenging objects to conserve, which is why the Terra Sancta Museum devotes so much of its attention to them. Today, we take you to a unique spot in Bethlehem, far away from the hustle and bustle of pilgrims… to the convent of the Perpetual Adoration Sisters of the Blessed Sacrament, at the Milk Grotto in Bethlehem.
---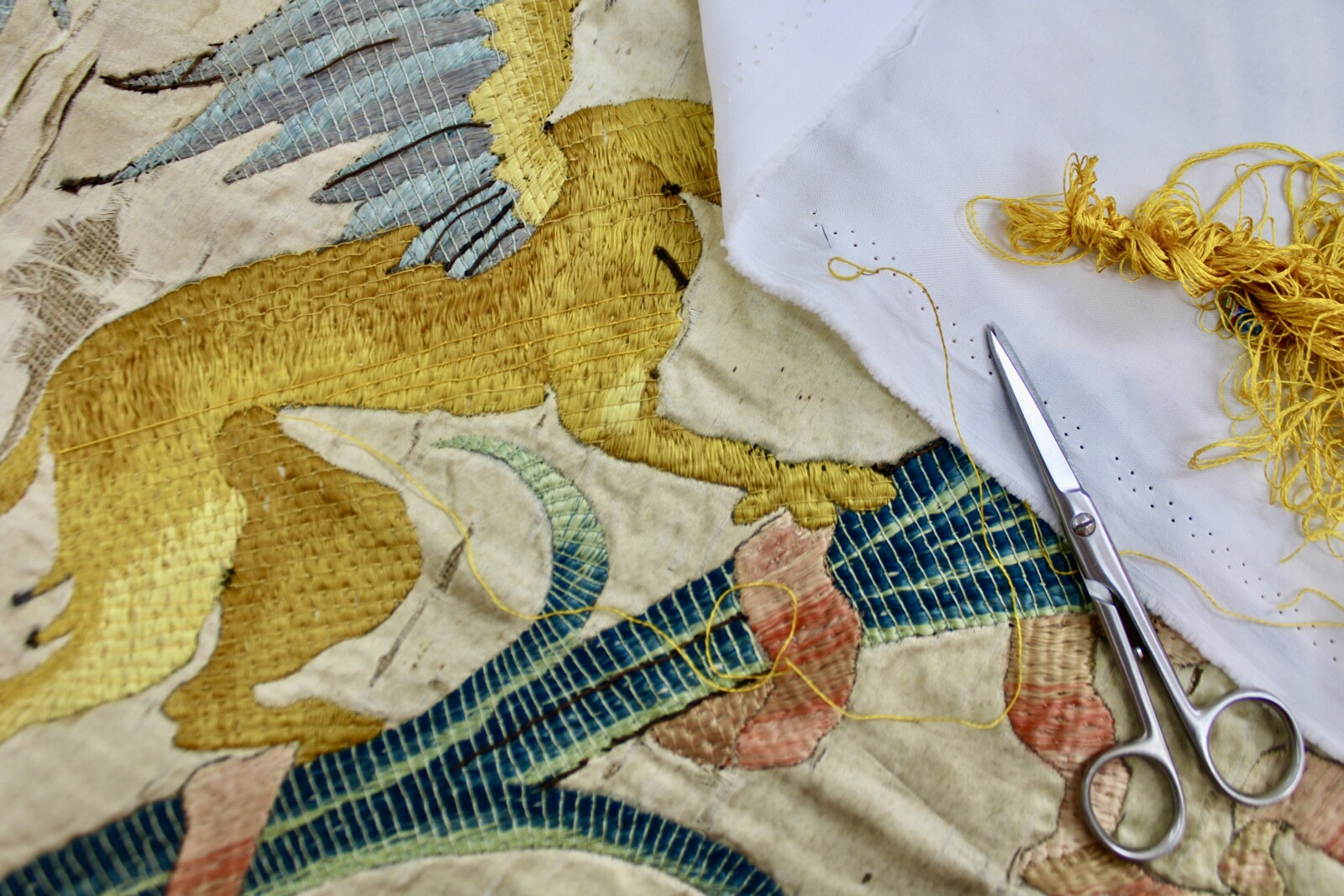 In April 2022, the Terra Sancta Museum expanded its field of expertise thanks to the arrival of Anastasia Ozoline, a textile restoration specialist. Anastasia previously worked as a restorer for the Textile Arts Museum in Lyon and for the Louvre Museum, and she currently works as a restorer for the Palais Galliera, a fashion and clothing museum in the city of Paris. It was there that she met Father Stéphane, the current director for the Office of Cultural Goods at the Custody of the Holy Land. "You are just the person I need," he told her, and a few Covid-delays later Anastasia arrived in Jerusalem and then in Bethlehem, to the Adoration sisters at the Milk Grotto. The sisters had already restored a few liturgical vestments, most notably for the "Treasures of the Holy Sepulchre" exhibition at the Palace of Versailles in 2013. With the arrival of Anastasia Ozoline, the religious were able to learn new textile restoration techniques, to help with their continued care of the museum's collection items.
The kindred relationship between the sisters and the restorer was forged when Anastasia saw their cupboard filled with spools of thread carefully arranged by colour: "These silk threads are perfect!" the specialist exclaimed. She had also brought with her other threads of different sizes: "When we restore a piece that has a gap, for example, we place a supporting piece underneath and hold it there with hair-thin silk threads so that it is invisible."
The mother superior then opened a second cupboard, which seemed more like a treasure box: it was filled with golden threads that the sisters will use during these coming weeks to restore a dalmatic whose golden borders have become overworn. The sisters learned how to reorder all the gold threads with pliers and to immobilise them with entomology pins in order to apply the restorative stitches. Thanks to this technique, the sisters will be able to work on independently restoring the gold threads of other pieces.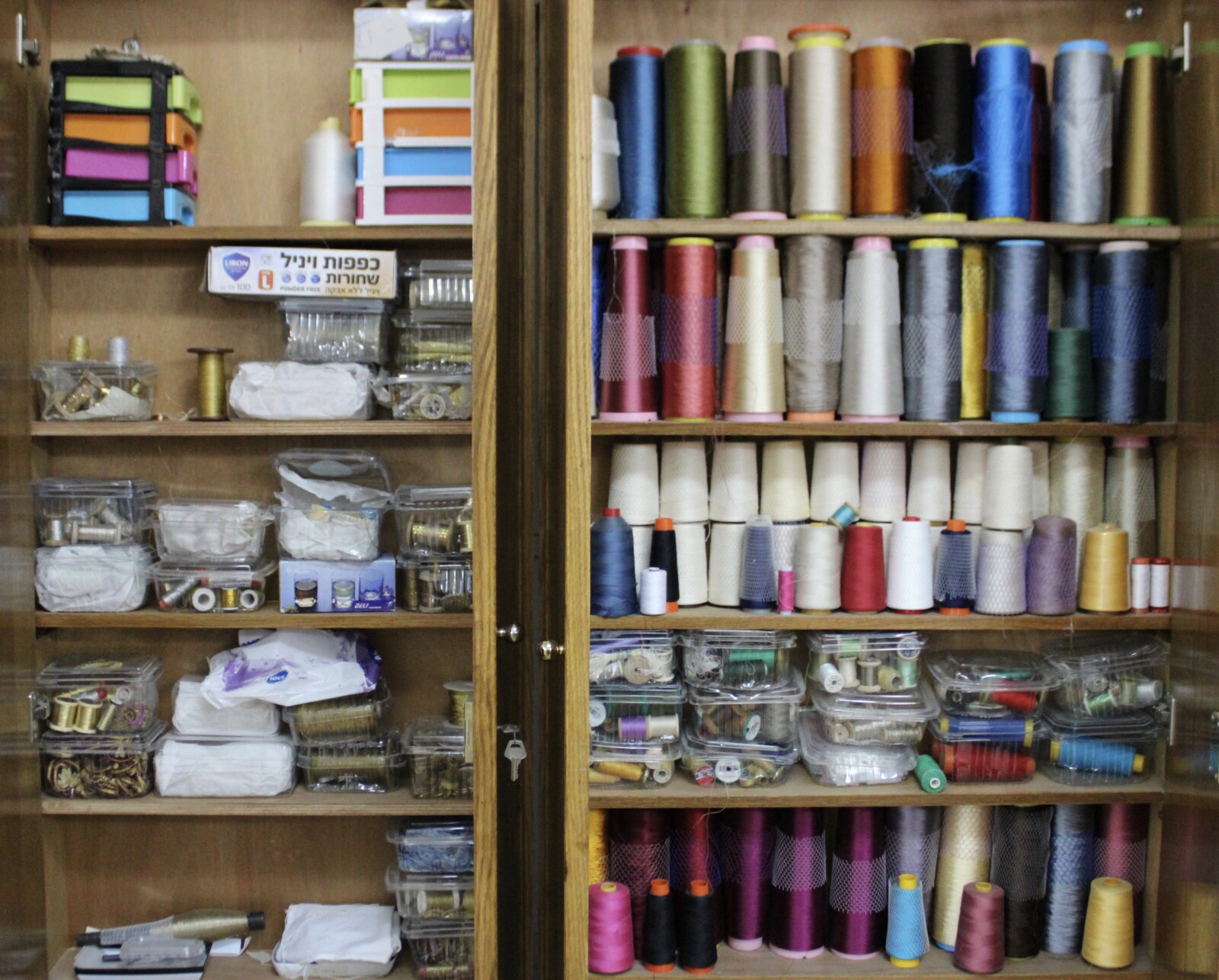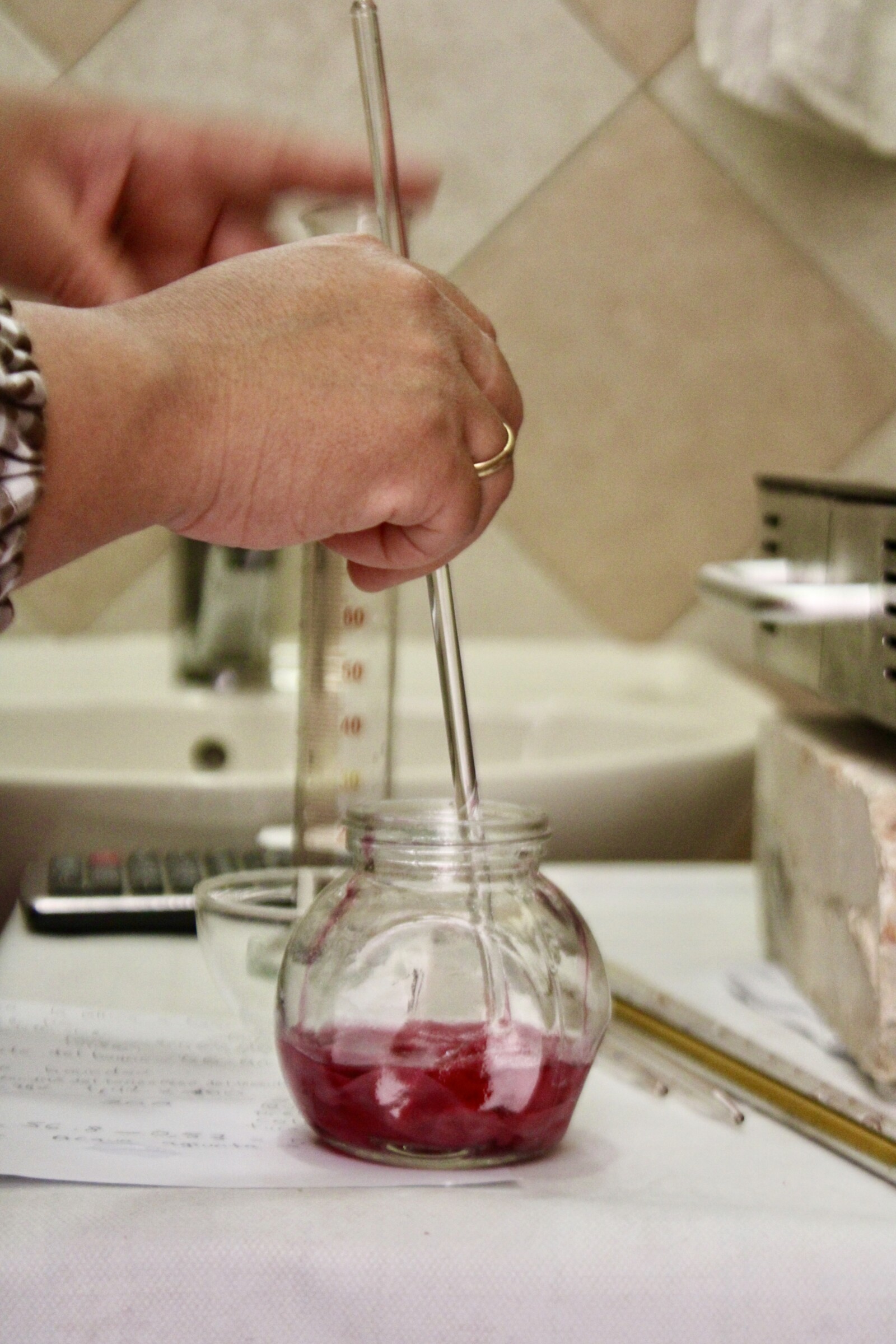 A "satellite" precision lamp, work tables, sewing machines for the supporting fabrics… everything was in place, or nearly so, as Anastasia Ozoline had brought along a few things to complete the workshop. That week, the sisters were trying out a restoration technique that seemed almost culinary in its procedure: dyeing silk threads and samples, using coloured powders and demineralised water that had to be heated on kitchen stovetops. This precise method of dyeing allows the colour of the restoration piece to be imitated exactly: "For the moment we are working with synthetic dyes, but the aim is to use natural dyes in the future, since their colour has a beautiful vibrancy. Moreover, this dyeing method was used during the time the textiles in the collection were made, so they will more closely match their original state."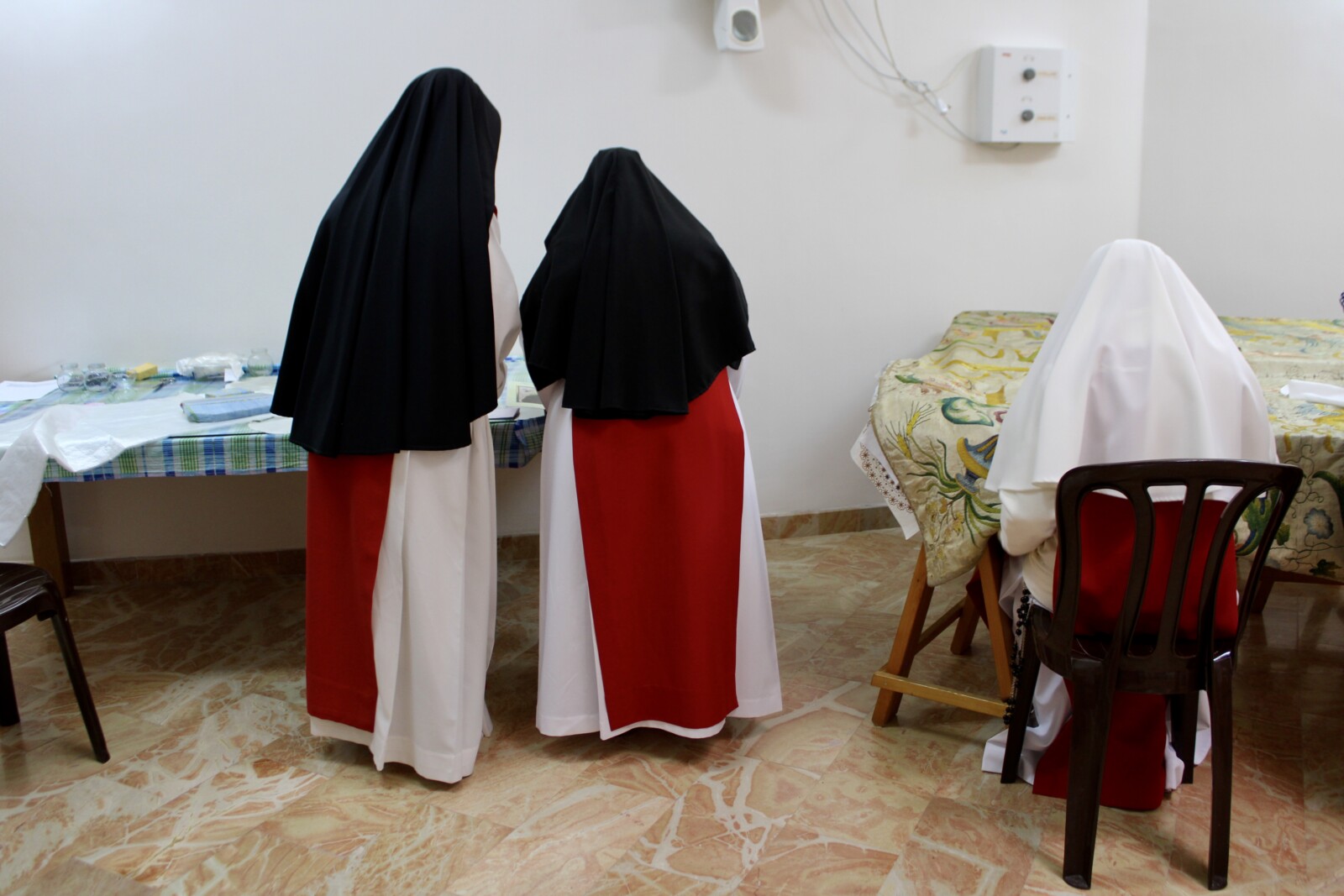 The sisters also learned to form the Boulogne stitch, the type of embroidery stitch chosen to serve as a textile restoration stitch. Although the sisters were very diligent in their work, the atmosphere was nonetheless particularly joyful! "This is the first time we have had lessons at this calibre of technicality, yet Anastasia explains everything with such clarity and simplicity. And we laugh so much as we work! We still have a lot to learn: cleaning tarnished gold, stitch techniques for worn fabrics…" the Adoration sisters explained. "Our work is an extension of our prayer. We draw strength and love for all that we do from prayer before the Blessed Sacrament."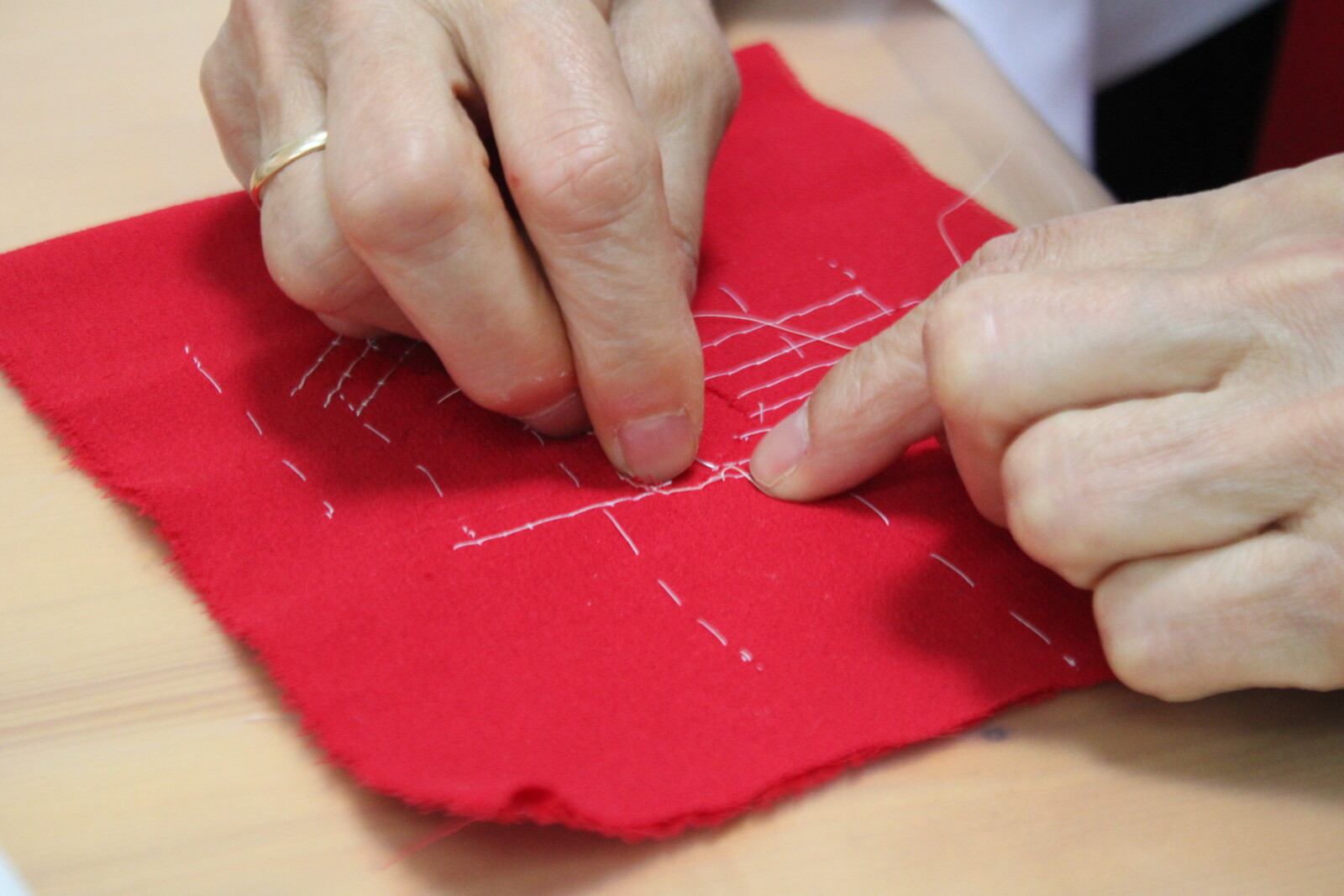 Anastasia confirmed: "The whole community participated in the lessons, and the sisters all have great potential. I am very touched by the way they seek beauty in everything they do. Textile restoration is something which is quite meditative in its repetition of stitches, and it agrees very well with a life of contemplation."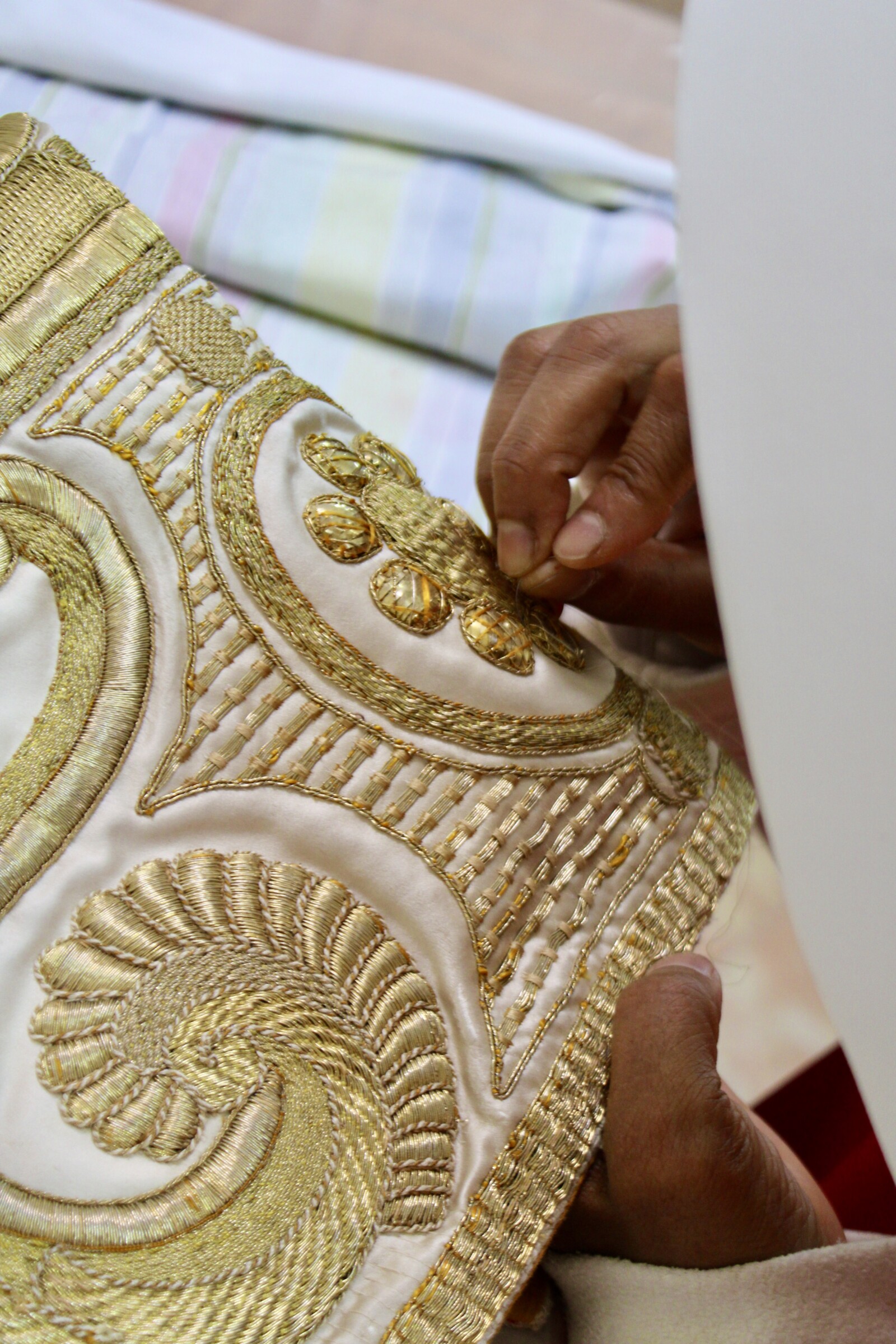 (Translated from French by Virginia Nyce)
Photo : ©Lucie Mottet / TSM